Florence Film Awards Italy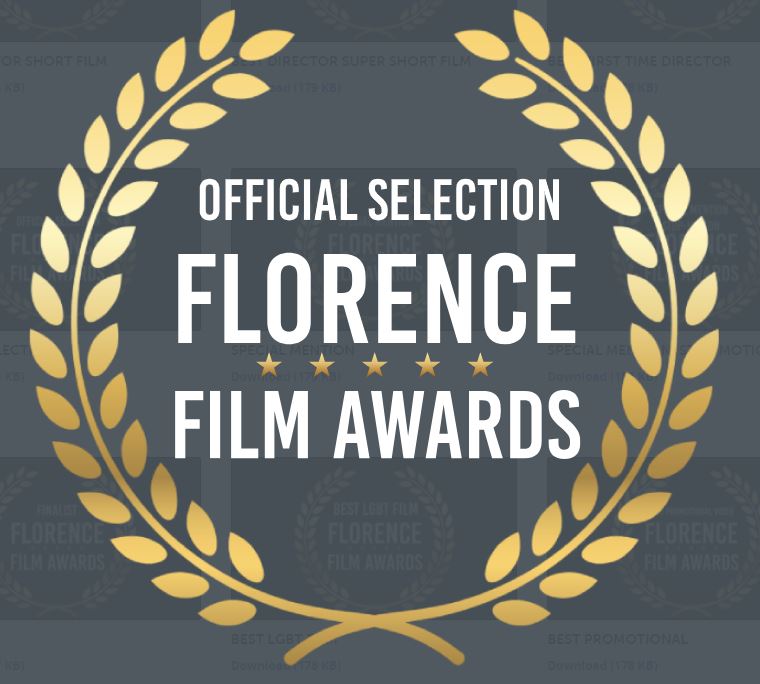 The Reporter from Ocoee with Love
The Reporter is one of the greatest characters where Kriss Boiadzhieff delivers the news in his own way, he has a dream to make the best rafting experience for everyone. Oh GOD he did it, he is rafting since 2013 and planning to become a raft guide but he is still afraid to do it. You are going to see amazing rafting and helicopter footage, the guest star Sonya Suares Alonzo playing as Sonya Fernanddez, and special appearance of the real Big Foot, snow beast, Sasquatch you named.
click here
IMDb qualifier's Florence Film Awards Italy is a monthly and annual international film festival that has rewarded important movie stars as Anita Ekberg, William Baldwin, Eric Roberts, Mira Sorvino, Terrence Howard, Malcolm McDowell, Jeremy Piven, Claudia Gerini and many more actors and directors from all around the world.
Florence is the city of the Art and we think that films are the highest point of the Art. Our mission is to promote films, and be another step up in the filmmakers' careers. Each month, our Jury will award the best films.

Interview with film maker read more.
Judging team at the festival Florence Film Awards Italy:

Aisha Cerami - Writer
Aisha Cerami, daughter of Oscar-winning screenwriter Vincenzo Cerami and actress Mimsy Farmer, is an Italian writer and screenwriter. She worked also as actress with great directors like Giuseppe Bertolucci, Taviani brothers, Peter Greenaway. And she worked also as singer and lyricist with Oscar-winning composer Nicola Piovani. Aisha Cerami has grown influenced by the "power of words", and she made this her life. In recent years she devoted herself solely to her true passion: writing. She writes stories, screenplays, novels. Currently she works for one of the major Italian publishing houses, Rizzoli.

Yari Gugliucci - Actor / Writer
Yari Gugliucci was born in Salerno. After graduating in Sociology, he moved to the United States to study acting. In New York he attended workshops given by Susan Strasberg, Arthur Penn and Michael Margotta.He Founded the M.A.S.(modern acting system). He appeared in many films including: Ferdinando e Carolina and Francesca e Nunziata by Lina Wertmuller, and many more. He also had parts in foreign film productions: My House in Umbria directed by Richard Loncraine (HBO), A Room With a View directed by Nicholas Renton (ITV1).

Roberta Mastromichele - Actress / Choreographer
Roberta Mastromichele is an actress, dancer, choreographer and artistic director of concerts, TV shows and events. She lives between Rome and New York. She started working in 1998 as an assistant of choreography of the well-known art director Luca Tommassini, participating in video clips and TOURS of the greatest Italian and international pop stars such as: Pavarotti, Robbie Williams, Ricky Martin, Kylie Minogue, Geri Halliwell, Pharrel Williams, Snoop Dog, Usher, Claudio Baglioni, Giorgia.

Anila Nugmanova - Producer
Anila Nugmanova is an award winning producer of Kazakh origin based in Los Angeles. She has remarkable experiences of working on various motion pictures in Kazakhstan, Canada, Thailand, Hong Kong, Laos and United States.
Among her work are projects with Jamie M. Dagg on the international movie River that became an official selection at the Toronto Film Festival in 2015, a collaboration with Hollywood oldie Jeff Vespa on the internationally acclaimed feature film Paris Song and the outstanding Timur Bekmambetov on the web series Dead of Night together with Snapchat.

Giulia Mazzoni - Composer / Pianist
Giulia Mazzoni is an Italian composer and pianist, she studied at Conservatorio G.Verdi of Milan. In 2013, her first album "Giocando con i bottoni" won the prestigious "Premio Ciampi" and she performed at the Christmas Concert (Rai 2) with Dolores O' Riordan, Patty Smith, Asaf Avidan. Giulia performed in very important theaters in Italy and abroad like Oriental Arts Center of Shanghai, Auditorium Parco della Musica of Roma, Jinwan Grand Theater of Tianjin, Blue Note Milano and many others.

read more details about the jury
Award Winner by
Florence Film Awards Italy
in category Best Experimental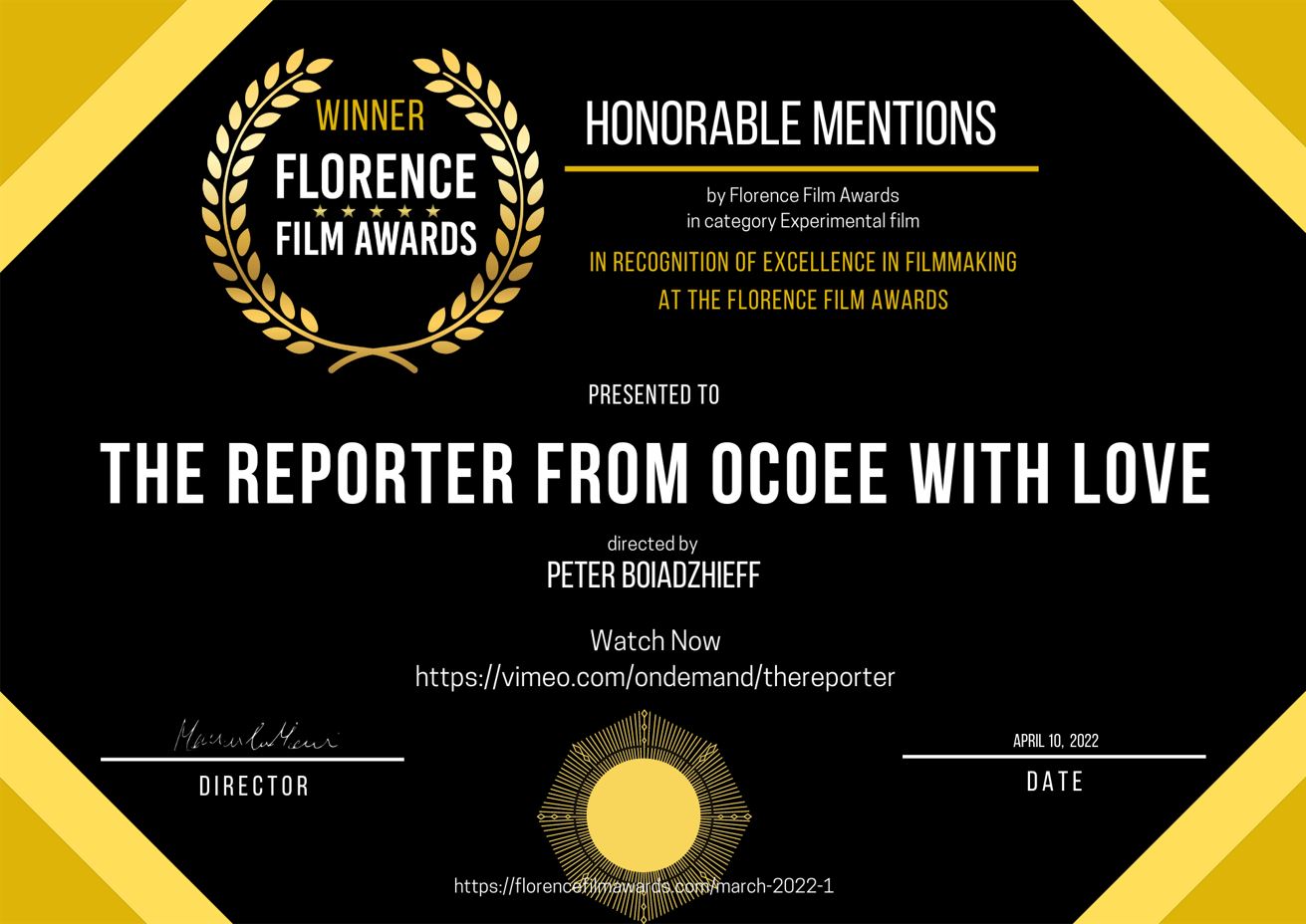 Florence Film Awards Italy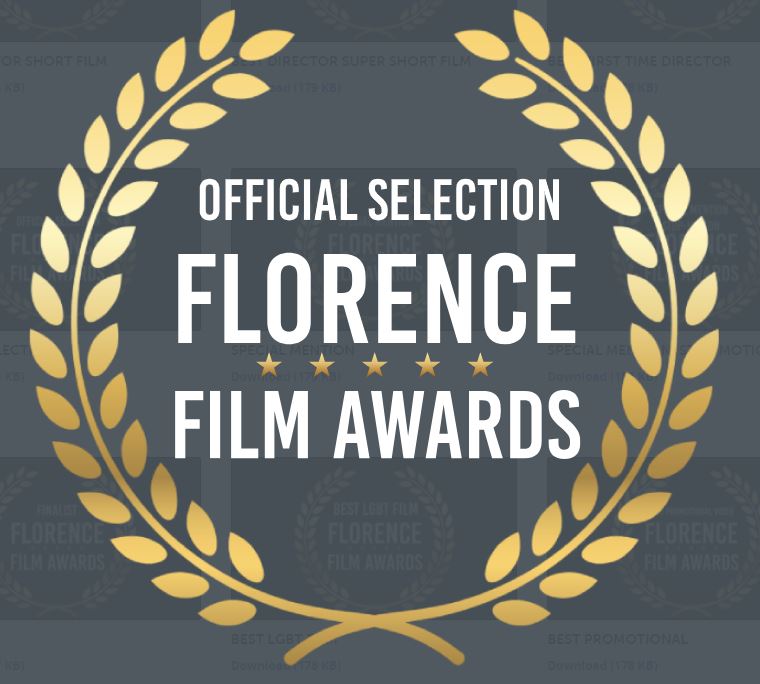 Official selection in category Experimental film!
Pdf Certificate